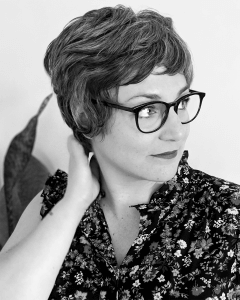 Rebecca Kirk Connors (she/her) graduated from Boston University with a BA in English. After graduation, she spent time roaming across the map. Raised in Bethesda, MD, she has lived in the small town of Shelby, NC and on the west coast, in San Francisco, CA and Seattle, WA.
She is now back in Boston with her family, where she recently earned an MFA at the Solstice MFA program at Pine Manor College now at Lasell University. Along with her writing, she works at the New Art Center in Newton and volunteers at Lily Poetry Review. She and fellow poet, Lisa Allen founded The Notebooks Collective as a response to the isolation from Covid-19. Through this collective, she teaches workshops, curates events, and provides writing support.
In addition, she serves on the advisory board of the Solstice MFA Program.
She has too many plants and a weakness for regency romances, horror stories, and disease ecology. She also has a tuxedo cat named Lizzie.
Her work has recently appeared in Tinderbox Poetry Journal, Menacing Hedge, Glass Poetry Journal and elsewhere. Her poems have been nominated for the Orison Anthology and the Pushcart Prize.
Her chapbook manuscript, Split Map, won the Dare to Speak Chapbook Contest and was published by Minerva Rising Press in Spring 2019.